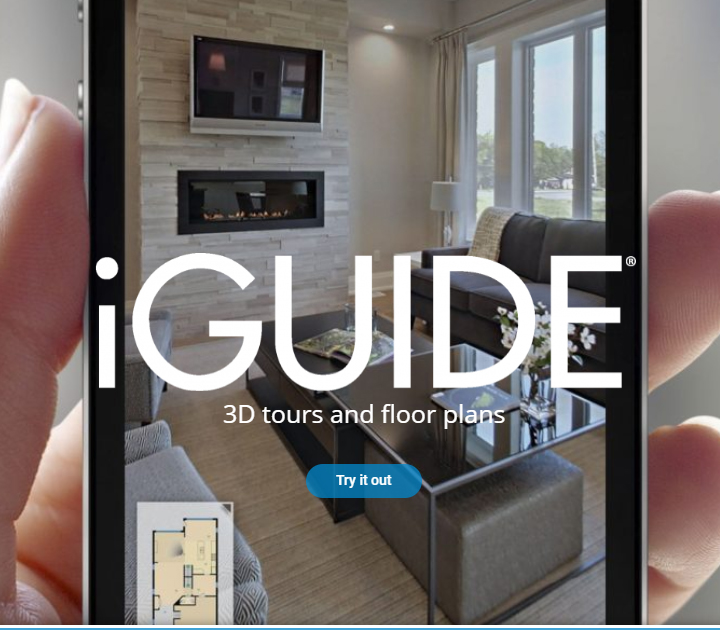 Property information provided by iGUIDE 3D tours
Test link for iGuide sample

360° images – Visually explore whatever you want from the perspective of someone standing in the property. Check out the dishwasher, the fireplace, or look at the ceiling. Get a more immersive visual experience than with still photos alone.
Floor plans are a great way to represent a space in 2 dimensions and understand an entire property at a glance. They give context for each room relative to the whole and help with planning and decision making. They are an interactive part of the iGUIDE 3D tour and can be downloaded as pdf, jpg, svg, or dxf.
Floor and room dimensions – iGUIDE 3D tour camera's time-of-flight laser scanner gives confidence in measurements. Feel assured that you can deliver reliable measurements and floor plans with a typical dimensional uncertainty of 0.5% or smaller.
Square footage/floor areas attach value to a property and are used in real estate listings, comparables analysis, and Automated Valuation Models. Every iGUIDE 3D tour provides detailed and defensible square footage analysis and typical iGUIDE square footage uncertainty easily meets the requirements of various property measurement standards (such as 2% for BOMA and Alberta RMS).
Advanced Measurements will change the way you understand a space by giving you the freedom to measure either directly in the floor plan or in an image on the iGUIDE 3D tour. This is next level virtual immersion in a property.
Photos are the most popular way to look at a property. They are quick to load, easy to share, and have universal appeal.
Video Integration –  Share your videos using the iGUIDE 3D tour. Video is just as prevalent as photos but adds a sense of movement that conveys what it would be like to move throughout the property. The connection between space can be more easily understood in this way. Aerial video can also give a perspective that's impossible to achieve any other way.  
Neighborhood information is useful for finding schools, restaurants, libraries, and transit. The surrounding area is really important and can be more important than the property itself.
Reliable Measurement is Essential
Floor plan dimensions and square footage accuracy depend on many factors, such as how large a floor plan is or the number of interior walls. You can feel confident in your choice to use iGUIDE 3D tour because typical iGUIDE measurement uncertainty, in distance measurement on a floor plan, is 0.5% or better and the corresponding uncertainty in square footage is close to 1% or better. BOMA and Alberta RMS standards stipulate maximum square footage errors of 2% and iGUIDE easily meets these requirements
Test link for iGuide sample